"The Powder Coating Professionals"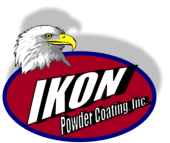 We Powder Coat For You, The Customer...
IKON Powder Coating's primary goal is to
provide exceptional customer satisfaction.
We are dedicated to provide all of our
customers with the best finishing value in the
industry.
Our global vision of professional quality, and
local commitment to customer satisfaction, set
us apart from the rest. We intend to maintain
this superior level of value added service by
acting as an extension of our customers
business.
Quality, Service, and Fair Price is what we
provide to all our customers. Anything else is
unacceptable…
Our proactive involvement in the finishing
industry's educational programs reflects our
commitment to the metal finishing industry. We
employ the best and most qualified people in
the industry, and we have the newest most up-
to-date equipment technology available.
At IKON we are committed to provide our
customers with the very best quality and
service at an exceptional value.
Because We Are "The Powder Coating
Professionals"
Michael W. Cravens
President
Our
TEAM
of finishing professionals have
more than 60 years of experience, and we're
ready to partner with you. Whether your
powder coating requirements are high
volume parts, large items, or just a hobby
project, we have the equipment and the
expertise to give you the best value in the
industry.
Our team is ready to work with you to
develop a long term mutually beneficial
business relationship built on trust and plain
old hard work. Let us help you and your
company…
Michael Cravens
has been actively involved
in the powder coating industry since 1976.
Mike is a powder coating process consultant,
author, and educator. He conducts seminars
and workshops for a variety of trade
associations.
Powder Finishing
Consultants, Inc
"Improving the Clients Condition"
IKON Powder Coating, Inc.
located in
Anaheim, CA. announces the completion of
their New State-Of-The-Art powder coating
Job-shop. The 40,000 square foot facility
showcases the best available powder
coating application technology. High speed
conveyorized finishing lines are
accompanied by a very large batch coating
system that can handle parts in excess of
24 Feet in length with no weight limit. With
over 10,000 powder finishing colors and
chemistries available our team is capable
of providing a cost effective finish for any
product or project.